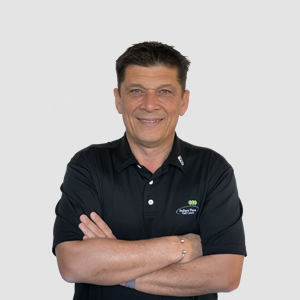 Tim Milford
Tim has been a qualified member of the PGA since 2000. Alongside his coaching he is the Centre Manager at Pedham Place Golf Centre. Tim is currently the coach to the successful Kent County Amateur U18 team and the Kent Ladies.
He has just added a Trackman to his coaching equipment which along with slow motion cameras can help his clients understand more about their ball flight and the corrections required.
Tim came to Pedham Place on the back of a successful playing career at both Professional and Amateur level. Elite England amateur squad 1994-1995, Kent Amateur Champion 1995 and numerous high finishes in national and international amateur events.
Tim then played European Challenge Tour and some European Tour events for 7 years. Twice finishing second on the Challenge Tour and best of tied 4th in the Russian Open in a dual ranking European Tour event.
Tim still plays to a high level competing in 2018 at the Stay sure Seniors PGA at The London Club with a creditable 22nd place and can still give the young guns in the region a good run for their money.
Over 25 years' experience at elite level playing and coaching gives Tim the experience required to help with any golfers needs.
Follow Tim

Adam Clough
Adam started his golf career at Pedham Place at the age of 12 and continued as a member until he turned professional aged 18. During his junior career he represented Kent from the age of 15 and won many junior opens all over the county.
Adam has worked at Pedham since 2014, graduating as a Full PGA Member in April 2018 and has been building a strong client base of all ages and abilities from beginner golfers to single figure aspiring professionals as well as running a successful junior program. He currently uses the Junior Passport coaching on Saturday mornings for kids aged 5 – 11.
Alongside his coaching he plays numerous events on the south region tour with a number of wins over the past couple of years.
From 2019 he will be looking to play on the EuroPro Tour all over the country and will be going to European Tour Qualifying School at the end of the year with aspirations to play Challenge Tour and European Tour in the coming years.
Follow Adam